MEN, who abuse women, lay the blame on anything. If they are patriarchal Muslims, they have one peculiar excuse extra: the Quranic verse 34 of Surah 4 An-Nisa. Many politicians in the West believe that this Verse indeed condones violence against women. This is not quite accurate, nor helpful.
According to the models of the World Health Organisation based on 140 studies conducted between 1983 and 2010, every third woman in northern Africa and the Middle East experiences a physical assault or sexual abuse by their partner. This is more than in Europe where every fourth woman is affected (see graph).1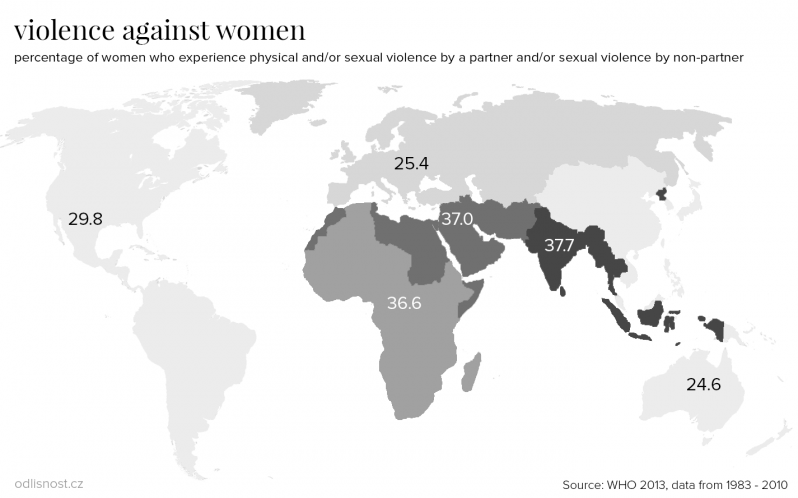 Far-right activists and nostalgic politicians are concerned that the Quranic verse 4:34 is the primary source of danger that women face.2 This is unrealistic.
Surveys of tens of thousands of women around the world show that violence against women is most common in countries where gender inequality is high and social norms permit the use of violence in conflict.3 Muslim countries are hardly typical for this. Russia, for instance, adopted a law in January 2017 that decriminalised a one-off beating of wife provided the injuries do not necessitate a stay in a hospital.4 The law was pushed ahead by the Christian Orthodox Church which argued that state interference in family matters is a Western liberal concoction.5
Whether in mostly Christian America, South Africa, or mostly Muslim Iran, domestic violence is most often experienced by women with low income and without further education.6 To prevent the recurrence of violence, the presence of support institutions matters most. In rural Bangladesh, for instance, women are reluctant to turn to the available arbitration councils because the judges are known for corruption and often favour wealthier husbands.7 When Muslim foreigners living in the Czech Republic think about reporting domestic violence, they are not worried about Quranic verses but rather about their trustworthiness and the impact the disclosure may have on their prospective asylum procedure, says Jana Levová, director of Spondea intervention centre in Brno.
Perpetrators and victims of violence, policemen, legal and health professionals in Muslim countries nevertheless sometimes more or less vaguely refer to the Verse 4:34 when they defend domestic violence.8 Similar cases have also been documented in some immigrant communities in northern America.9 A few years ago, Germany even experienced a legal misstep when a judge denied a German-Moroccan woman an expedited divorce from a violent man. To the bewilderment shared by the legal experts and leaders of the Muslim community, she cited the Verse in the justification of the verdict.10
The Verse itself belongs among the most discussed in the Quran, and myriad scholars have dissected it on tens of thousands of pages. Some of the Verse's interpretations are avowedly chauvinistic. And such can be solicited also by the most common Czech translation from the 1970s by Ivan Hrbek, an orientalist. It says this (see here for Czech):
Men assume a standing above women because God has prefered the one over the other, and because men give them (women) from their property. ... As to those women on whose part you fear disobedience, admonish them, assign them to their beds, and beat them! But if they return to obedience, do not seek reasons against them!11
Based on a comparison of several English translations and the Arabic original, it seems that Mr Hrbek distorted the Verse on several accounts. First, the Arabic Quran does not necessarily put women above men in general terms, nor value terms, neither in Verse 4:34 or elsewhere:
Men are caretakers ( قَوَّامُونَ /kawwámúna ) of women, because Allah has given the one more (strength) than the other, and because they support them from their means.
Such a translation suddenly appears no less egalitarian than the Biblical verse from chapter Ephesians 5:24: "…wives should submit in everything to their husbands".12 Second, the original Arabic verse 4:34 – as it was commonly translated until the end of the twentieth century – does not consist of a recommendation, nor a prompt to beat a wife but rather a three-step program of disciplining and reconciliation:
As for those women whose ill-will ( نُشُوز /nušúz ) you have a reason to fear, admonish them (first), (then), refuse to share their beds, (and last) hit them lightly ( ضرب /daraba ); if thereupon they pay you heed, do not be quarrelsome.13
Chauvinistic impression from the verse unsettles both Muslims and non-Muslims around the world.
Muneeb Alrawi, a Czech Muslim leader, is well aware of the inadequacies of Hrbek's translation. During sermons, he often refers back to the original Arabic. Regard for linguistic subtleties, however, does not change anything on the observation that a junior standing of women in this or that sense or a man's alleged right to discipline a wife (not to mention by beating) is hardly reconcilable with the ideal of gender justice. Today, this unsettles both non-Muslims and Muslims the world over. But the alleged right to hit a wife was affirmed to men by all the pre-colonial interpreters of the Quran. Although some limited its severity (it cannot be done in anger; must not be directed at face; the instrument cannot be bigger than a toothbrush; it is subject to circumstances), there was not a single dissident.14
Partly because the gender equality is by many patriarchal Muslims perceived as a dishonest Western veneer firmly associated with colonialism, to this day, many preachers defer to the exclusively patriarchal pre-colonial tradition. They are concerned about the loss of authority in their community.15 To abused women, such Muslim leaders often advise patience and obedience, while telling their husbands that it is better not to beat their wives. They can quote several hadiths that discourage women abuse and emphasise that Muhammed did not beat his wives. Then they send the couple home.
In mostly Muslim Malaysia, a law against domestic violence was passed in 1994, twelve years before a similar law was enacted in the Czech Republic.
That no Muslim will discard the Quran because of a problematic verse does not mean he must be less accommodating to women than every other European. Many Muslims today convincingly show that the Verse 4:34 is a curiosity and the Quran mostly speaks of intimacy, support and equality between the sexes. It says, for instance: "They are your garments, and you are their garments" (2:187). This way of interpretation was developed, for example, by the Sisters of Islam. This nonprofit contributed to the acceptance of a law against domestic violence consisting provisions for a restraining order in Malaysia in 1994. That is twelve years before a similar law was passed in the Czech Republic.16
Modern social norms and the criticism of the Verse has led many other scholars to challenge the very bottom of the Verse.17 In places as different as New York and Jakarta, these Muslims question whether the term ضَرَب (daraba), from which the traditional interpreters derived the hint to beat, was at all supposed to denote beating: The word ضرب (daraba) has many meanings and only one of them is "to hit". It also means "to wander around". Prominent Canadian imams translate it today as "cite them (to authority)".18 The Muslims who interpret the Verse this way must not necessarily subscribe to the latest fashions: Nawal Ammar, a dean at the Rowan University, recalls how her grandfather, educated under the Ottoman curriculum, used to explain her the Verse in the 1970s by referring to its many Arabic meanings.
Ayesha Chaudhry, a professor at the University of British Columbia, had provided the new interpretations with further credence when she had rigorously shown that when the pre-colonial exegetes were interpreting the Verse, they made personal choices favouring a patriarchal outlook, rather than that they would detachedly pass on the literal word of God. According to the pre-colonial interpreters, the mistakes (نُشُوز /nušúz) of wives necessitated disciplining while the errors of men arose from a man's reaction to the wife's mistake. Thus although a husband's roughness counted as his misdeed (نُشُوز /nušúz), it could effectively have been excused by a claim that it was provoked by the wife.19
The idea of a woman effectively causing her man's misdeeds was a fixture among pre-colonial interpreters of the Quran. Far from being an Islamic excess, this idea was entrenched in the Ukrainian law until 2009.
Despite the prospect that some Muslims likely follow this logic of the chauvinistic roundabout to this day, it would be a mistake to assume that it is a logic characteristic of Muslims. For example, the law against domestic violence in mostly Christian Ukraine had until 2009 contained a clause that enabled the punishment of victims of domestic violence for provoking an attack against them. When it was valid, thousands of warnings for "provocative behaviour" were awarded to the victims.20
Ultimately, it is important that those who are not looking for a vindication of violence in the Quran, do not find it. Despite the claims of far-right activists and nostalgic politicians, the notions of men's superiority (or victim-blaming) can be alleviated by critical education and increasing awareness about violence against women. Much like in Central Europe, various non-profits in the Muslim world advocate for domestic violence to be recognised as a serious problem. Even in Saudi Arabia, notorious for mistreatment of women, The King Khalid Foundation encourages people to report violence against women. Four years ago, the non-profit prompted the passing of the first Saudi law against domestic violence.21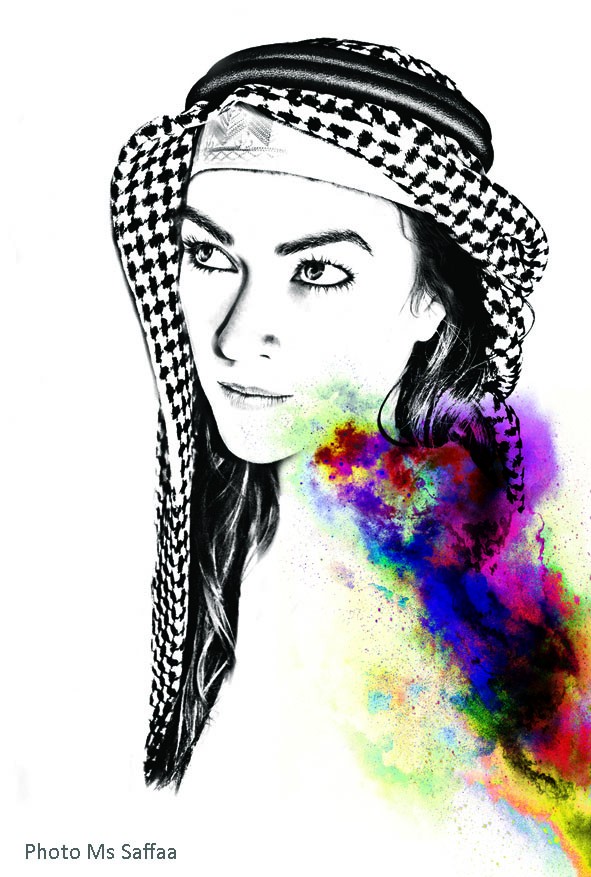 A female face shrouded in a shemagh, a symbol of strength, has in between became emblematic of the movement of Saudi women called #IamMyOwnGuardian. Ms Saffaa, the author of the image, says that as long as the guardianship system prevails, no single "law will ever protect women". The movement has already inspired conversations about the status of women well beyond Saudi Arabia.